SO, YOU WANT EXPONENTIAL ORGANIZATIONS!


THEN, START BY DISCARDING THE NEED TO UNDERSTAND THE INDIVIDUAL'S POTENTIAL CAPABILITY USING THE 'BELL CURVE'!
If you think about having an exponential organization, then do not fall into the logical error of the bell curve to look for people's potential to be accountable for high levels of complexity of work. Exponential organizations get absurdly greater results than their competitors.
They take advantage of continuously growing technologies like IoT, learning machines, analytics; they have a massively transformative purpose and, amongst other things, leverage the relationships with the public and the external community. They are not 'normal' organizations'.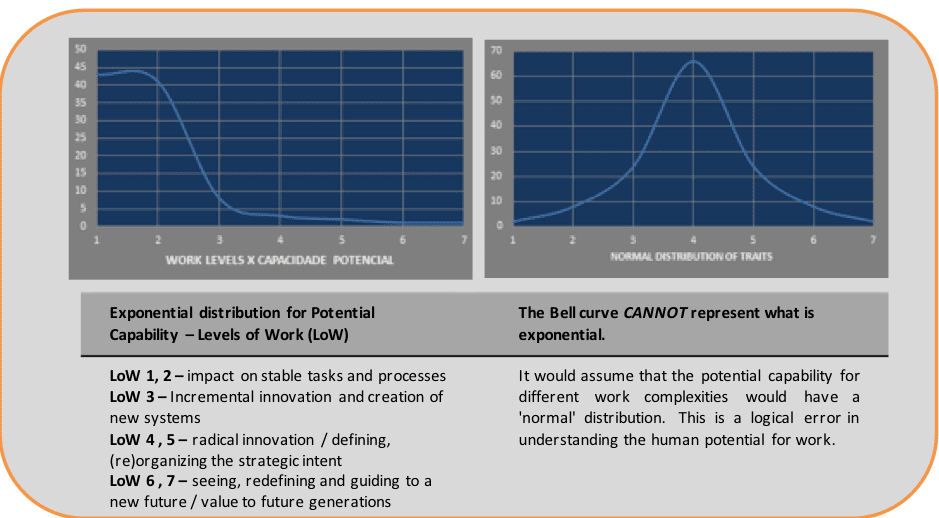 Tests like IQ, EQ, personality, styles, types, and similar online instruments distribute people in a bell curve. But, if you want to determine how far people can judge, plan, and take advantage of current and highly unstable variables and future developments, then you are looking for something else:  something that can make an exponential difference!
The distribution of potential capability for pure innovations, transformations, to see ahead and capture windows in the future has an exponential distribution – we are not talking about normal people.
Jim Collins, in his study of companies who achieve above average results over 15 YEAR periods of time, identified that their leaders "want to see the company even more successful in the next generation" i.e. exponentially sustained performance was associated with leaders that thought in longer time frames.
To identify such capabilities a research-based model is needed which is sustained over the long term; this entails an exponential distribution of people without being confused by "average" medium measures.
What you want are capacities to work with fairly extended time horizons, which we find only in a few rare individuals. The nature of human capability to make decisions in the broad context of work is not explained by the 'bell curve!